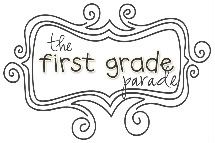 I'm excited to participate in the "Meet the Teacher" link party through
Mrs. Carroll's
blog! I can't wait to meet all the other teachers with blogs out there! Here goes....
My history with teaching began in 2003. I had already graduated from The University of Houston with a marketing degree, but I had no clue as to what I wanted to do. I tinkered with the thought of pursuing a post-grad degree in psychology...but I just wasn't ready to commit that much time to school again. After several considerations, I decided to pursue a career in education, and after receiving an alternative certification, I got a job teaching 6th grade Social Studies in 2004. To make a long story short, I taught for three years, got married/quit teaching/bought a house/had a baby (not in that order!), and then returned to education in 2009 at the same middle school and same grade level. This time around, I'm teaching Reading and Language Arts, which I love!
I have a husband and a four-year old look-alike son named Preston (well, when it's just the two of us, people say P looks JUST like me...but then when they see my husband, they say P looks JUST like him and not really me...go figure). I also have a stepson and daughter (who are 11 and 12 respectively), a cat (although I really want a dog), a
small
collection of shoes, and a
small
shopping habit!
Q: What would you be doing if you weren't a teacher?
A: I actually did it! After my third year of teaching, I took a leap of faith and obtained a 100% commission only sales position with a home builder. That job was to be a potential stepping stone into the world of real estate, but unfortunately, I made the transition right as the market was spiraling down. I was with the builder for a little over a year, and although it was a lot of hard work and long hours (not unlike teaching), I loved every minute of it (and secretly still miss it)!
Q: What are your hobbies?
A: My hobby used to be reading books...now I've scaled down to magazines! Aaaaand...can I say that
shopping
is a hobby???
Q: When you were little, what did you want to be when you grew up?
A: When I was little, I wanted to be....a teacher, an ice-skater, a dancer, a lawyer, and...there were a few more things, but I've forgotten! At least I've fulfilled one of those!
Q: What are your guilty pleasures?
A: Multiple and prolonged shopping expeditions.
Q: What is your biggest fear?!
A: Cockroaches! I've had a couple of run-ins with them, with one of those occasions being potentially dangerous. Even the thought of them disturbs me! By the way, if you're a teacher and you're afraid of cockroaches...don't tell your students. Trust. Me.
Q: When you're on vacation, where do you like to go?
A: I would like to go back to St. Thomas in the Virgin Islands. I was born there and my family is from there. Out of six children, I was the last and only one who did not grow up there. =(
Q: What's the best advice you've ever received?
A: I honestly can't think of the
best
piece of advice that I've received. Over the years, I've been well-advised by many people.
Q: What do you value most in others?
A: Their level of respect for others.
Q: If you could choose one of your personality traits to pass down to your kids, what would it be?
A: I would like for my son to be an independant thinker.
Q: If you could have lunch with anyone in the world….living or dead…who would it be?
A: I never met any of my grandparents, so I would choose one of them.